ASG Renaissance Earns Distinction as one of "Metropolitan Detroit's 101 Best and Brightest Companies to Work For®."
Dearborn, Mich., August 22, 2016 – ASG Renaissance, a technical staffing and marketing communications services firm has been selected as one of "Metropolitan Detroit's 101 Best and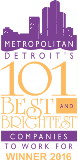 Brightest Companies to Work For" by the Michigan Business and Professional Association. This is the 13th time ASG Renaissance has received the honor since the award's inception in 2001.

"To be recognized for 13 years demonstrates our human resource practices and employee enrichment initiatives are resonating with our employees," said Lizabeth Ardisana, ASG Renaissance CEO and principal owner. "We continually strive to create a workplace culture where our associates are comfortable and can thrive as well as one that values and rewards our employees."

The Best and Brightest Companies to Work for ® competition identifies and honors companies that deliver exceptional human resource practices and an impressive commitment to their employees. Companies are assessed on numerous key metrics including communication, work-life balance, employee education, diversity, recognition, retention and more. Winners were selected by an independent market research firm that conducted the judging.
The Michigan Business and Professional Association will recognize ASG Renaissance at the annual Human Resource Symposium and Awards Gala on September 23 at the Detroit Marriott Renaissance.

About ASG Renaissance
ASG Renaissance is a technical staffing and marketing communications services firm that works with its clients to find and place highly-talented professionals in such positions as engineering, finance, quality, supply chain/purchasing, manufacturing, sales and executive management positions nationwide. With more than 29 years of experience, ASG has provided technical staffing and marketing communication services to a wide range of clients in the automotive, alternative energy, higher education, defense, healthcare, construction, government and non-profit sectors. ASG Renaissance is a woman and Hispanic-owned, ISO 9001: 2008 certified firm with offices in Michigan, California, Washington D.C., and Ontario. For more information, please visit http://www.asgren.com or follow us on Facebook and LinkedIn.
###